This is own project of our leader Eugene Zhukov
He earned his first experience in crowdfunding by bringing this game onto Kickstarter, having failed and successful campaigns there, and experimenting in work with press, gamers' community, crowdfunding strategies and advertising techniques.

OUR ROLE IN THIS KICKSTARTER:
Branding and Saleable story formation
PR & marketing strategy
Project presentation development
Graphics style and art content production
Copywriting and text editing
Balance of rewards
IN ADDITION:
Game development (full cycle)
Team management and production pipeline
Public relations, especially with backers
Web-site development
Online sales
There were 3 Kickstarter campaigns related to this project.
First campaign was unsuccessful, but it let us get up to 3000 backers, the most of which agreed to support project even despite the fail, pledging directly (via PayPal):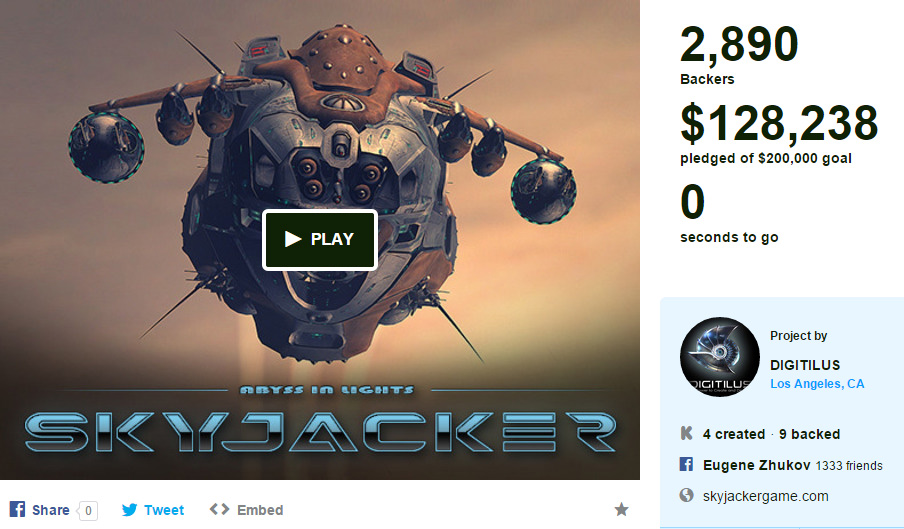 After getting the first experience of kickstarter, Eugene decided to change the strategy. The common big project was divided on smaller stages, having in mind to launch series of campaigns with lower goal, which results could be possible to use in the further stages. It was a right decision. Second campaign was successful. The result of the campaign was "Starship Constructor" – an interactive constructor and viewer of all the starships from the game: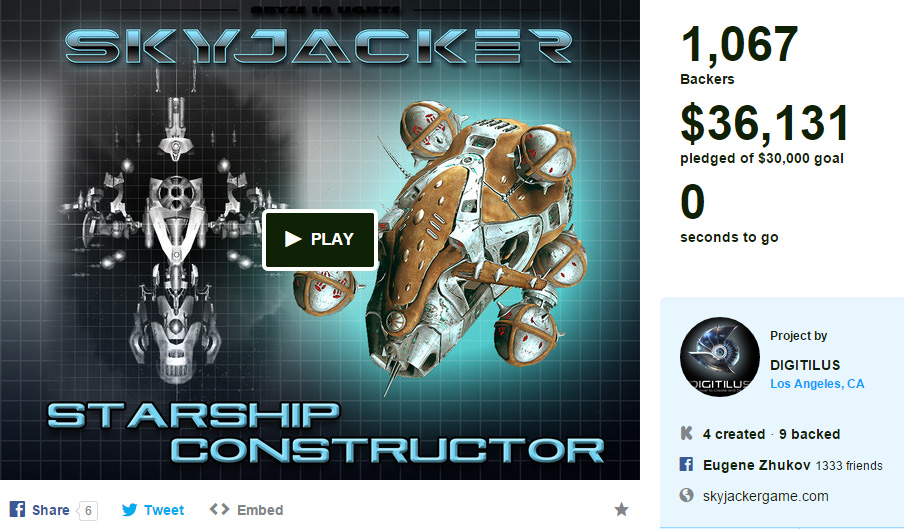 Third attempt had a quite ambitious concept, but it's financial goal was too high. The campaign didn't reach its financial goal, but Eugene and the team employed this kickstarter to promote their Steam Greenlight campaign, which was successful: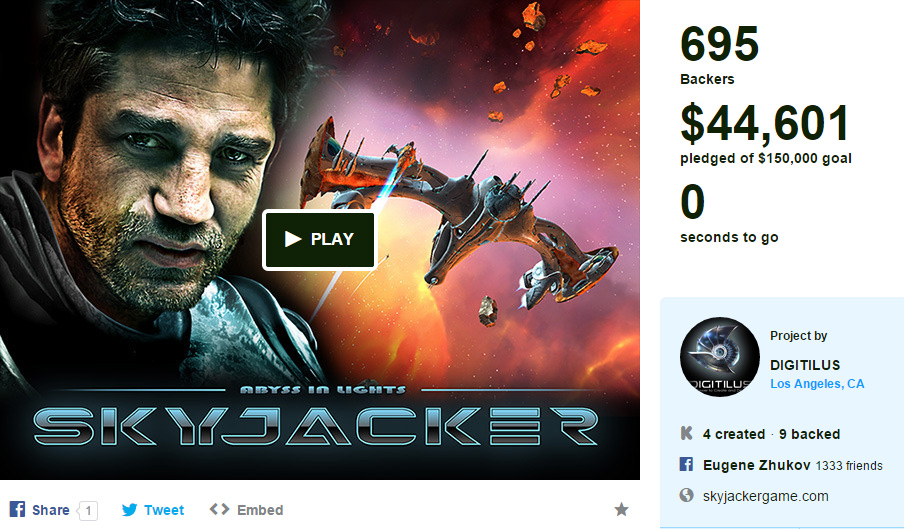 Funded:
$128,238 of $200,000 (64% of goal)
$36,131 of $30,000 (120% of goal)
$44,601 of $150,000 (29% of goal)
Platform: Kickstarter
Category: Video Games
Dates:
May 25th -> Jul 23rd (59 days), 2012
Dec 13th -> Jan 25th (44 days), 2013
Oct 8th -> Nov 22nd (46 days), 2013
Backers: 2890; 1067; 695
Average Pledge Per Backer: $44; $34; $64
Project By: DIGITILUS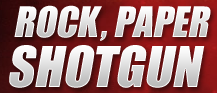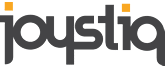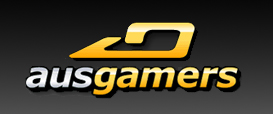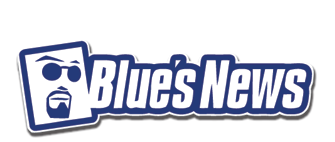 About the project:
Experience Intense Space Combat Battles With Fellow Pirates Across a Massive Universe in Single Player, Co-op and Multiplayer Modes.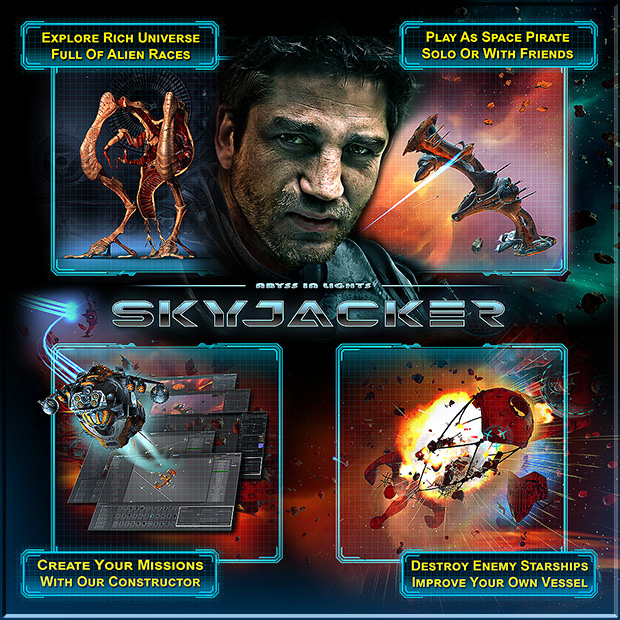 ENGAGE in SPACE COMBAT as a PIRATE
DESTROY starships by blasting them into OBLIVION
CREATE your own missions with CONSTRUCTOR TOOLSET
PLAY solo or with friends on PC, MAC and Linux
EXPLORE rich universe full of star systems and alien races
Skyjacker is based on the "Abyss Lights" book series written by our project lead, Eugene Zhukov. The player is the lone human in a galaxy of conflict – abducted by aliens, raised by pirates, wanted by privateers and mercenaries alike. You start on the bottom of the Pirate Stock Market and work your way up to the top, not by deliveries and fetch-quests, but through brutal missions like assassinations, sabotage, kidnapping, robberies, infiltration and extractions.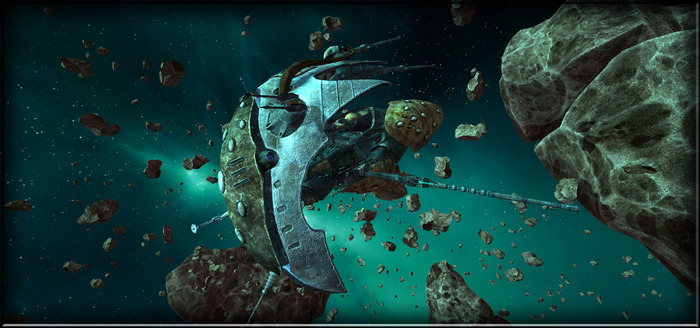 Players can go through scenario based missions, playing as a single player with AI partners, or with other players in co-op mode.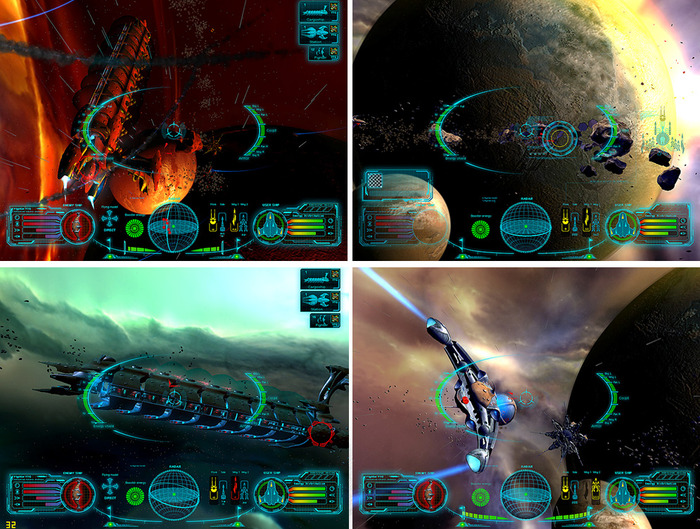 Bump space hulks and asteroids into collision courses with your enemies and watch the pretty fireworks.
Disable and destroy component parts of a ship. Cargo ship's getting away?  Slow it down with some neighborly torpedoes to the engine.
Salvage the parts you didn't destroy and mount them on your own ship.  Add insult to injury – rip enemies apart with their own guns!
Swap out engine parts to change the behavior of your ship – play it like an arcade game, like a classic space game, or with full inertia and momentum.
And all this in professional graphics and gameplay.
MISSION CONSTRUCTOR
Want to cut your teeth in creating your own missions? Have a need to express your creativity? We got you covered with the Mission Constructor toolset. The Mission Constructor consists of art assets and design framework that will allow you to create remarkable missions. It includes everything YOU need to implement YOUR mission without writing a single line of code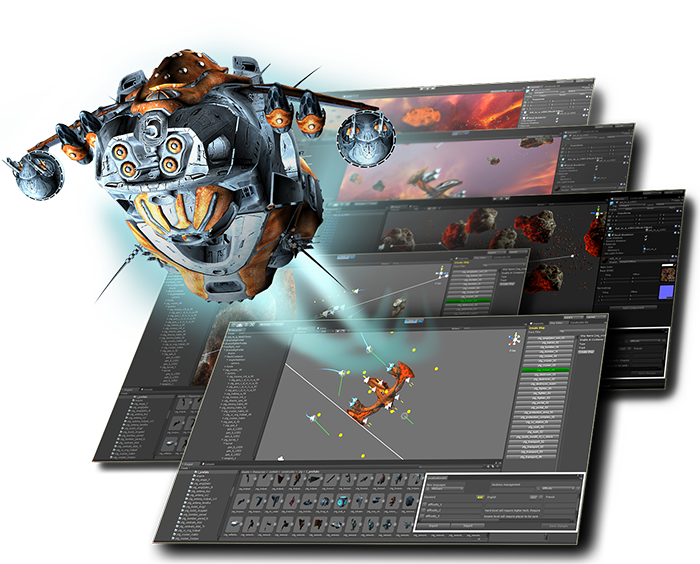 Via Digitilus